Enjoy Amiga with real DIP64 MC68000!
Amiga Minimig v1.81
This latest Amiga Minimig computer – REV 81
Comparing to original release v1.0 and 1.1, this board has:
4MB of SRAM
DIP64 Socket and full MC68000 compatibility. NMOS and CMOS version of the CPU is supported.
PiStorm compatibility – Using optimized Emu68 over 800MIPS of CPU performance! About 3-4X speed of Vampire.
Old PIC is replaced with ARM controller for faster IO and additional firmware features.
Board has:
VGA connector for for video output. 15KHz and 31KHz modes supported. PAL and NTSC.
Two DB9 joystick ports.
One DB9 serial port used by Amiga or ARM MCU.
Fast SPI modification – with a switch on the board (16MHz SPI).
Micro SD card for FPGA core, ADF and HDF files.
PS/2 mouse and keyboard support
As an Amiga this configuration resembles Amiga 600. Full OCS/ECS support with 2MB or CHIP RAM.
Tested CPUs:
MC68000 @ 7MHz (NMOS)
MC68HC000 Normal @ 7MHz, Turbo @ 21MHz (CMOS)
MC68SEC000 Normal @ 7MHz, Turbo 42MHz (CMOS)
PiStorm – running official core and Emu68 Normal @ 7MHz, Turbo @ 35MHz
Interesting characteristic is the ability to run MC68SEC000 at 42MHz with the same RAM access speed. For this reason Minimig is awesome platform for old 3D games like Armour-Geddon where this Amiga exhibits some amazing performance.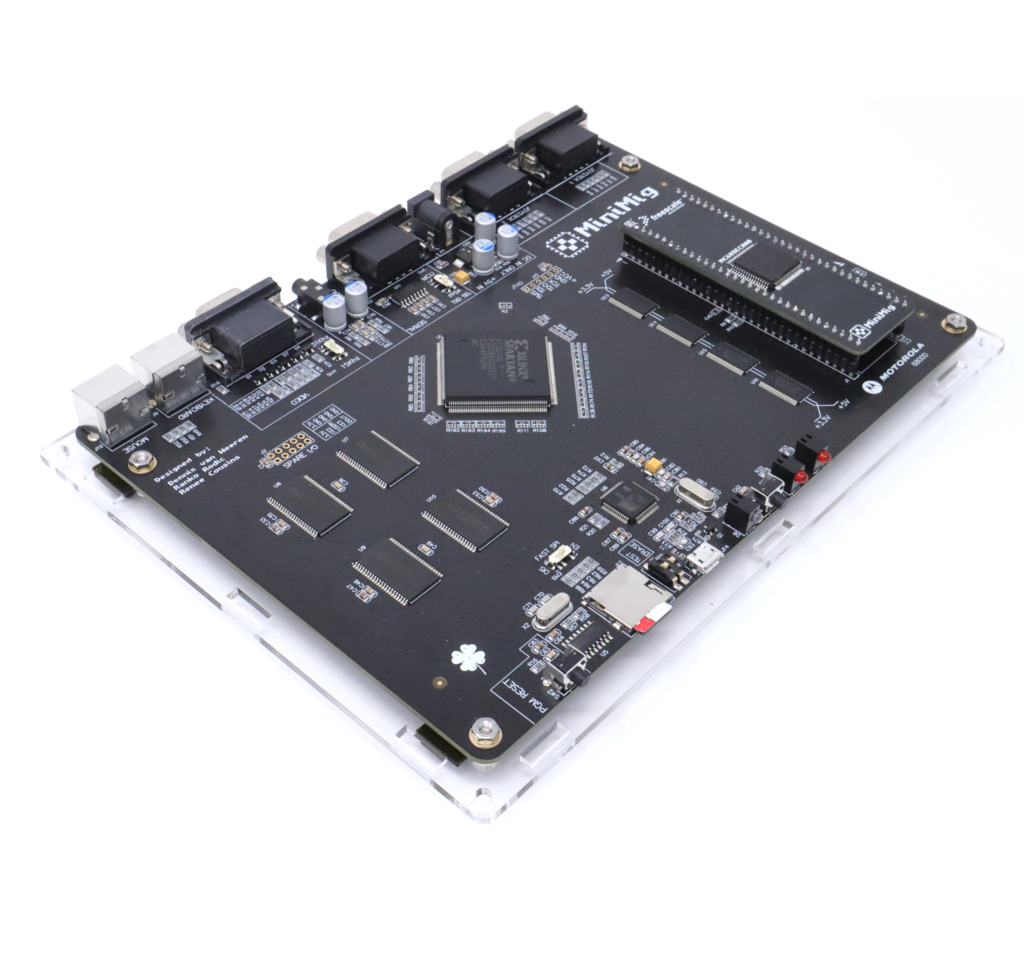 Minimig 1.8 board with SD card (16GB) containing Minimig FPGA core. Universal power supply – 5V 5A, Freescale MC68SEC000 @ 42MHz and Acrylic case.